SEARCH ARCHIVE
The Carl Frohm Archival Center is located within the Nebraska Jewish Historical Society. The Archival Center consists of photographs, documents, memorabilia and three dimensional objects of individuals, families, organizations, businesses, synagogues etc. of Nebraska and Western Iowa. The collection primarily is composed of materials donated to the NJHS.

The collection is catalogued in accordance with national standards by groups, subgroups and series. Visitors can browse the NJHS collection online. Researchers are given the location of the materials within the Carl Frohm Center only.

Copies of the documents and photographs can be obtained from the NJHS office. A fee for photographs and documents must be paid at the time of service or in advance of service.

Visitors and researchers are encouraged to contact the NJHS office in advance to schedule an appointment.

The Nebraska Jewish Historical and Carl Frohm Archival Center is dedicated to the preservation of the community's history. The NJHS seeks donations of personal and family papers, photographs, organizational records and all memorabilia that document our local Jewish history.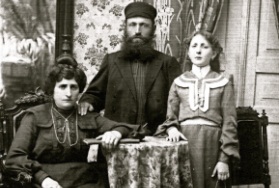 | Description | Box | File | Shelf | Folder | Oversized | Series |
| --- | --- | --- | --- | --- | --- | --- |
| Abramson, Leo-Scrapbook | 3 | A | 1 | 33 | | 1-A |
| Cohn Family, w/p | 34 | A | 3 | 164 | | 3-C |
| (Abrams), Linda Tederman, w/p | 2 | A | 1 | 23 | | 1-A |
| (Altschuler) Helen Bernstein, w/p | 7 | A | 1 | 96 | | 1-A |
| (Blum), Cantor Jennifer Seeger | 19 | A | 2 | 219 | | 2-B |
| (Chodak), Mollie Kosowsky, w/p | 29 | A | 3 | 63 | | 3-C |
| (Davidson), Dorothy Krause, w/p | 37 | A | 3 | 16 | | 4-D |
| (Epstein), Danielle Sherman, w/p | 46 | A | 4 | 61 | | 5-E |
| (Fellman), Deborah Weinstein, w/p | 52 | A | 5 | 51 | | 6-F |
| (Frost), Marcy Ratner, w/p | 70 | A | 6 | 339 | | 6-F |