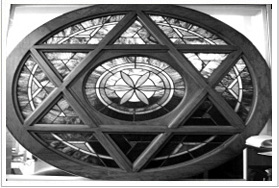 OUR MISSION
The Mission of the Nebraska Jewish Historical Society is to preserve the histories of the Jewish families who settled in Nebraska and Council Bluffs, Iowa.
The NJHS will promote the acquisition, cataloging and use of the collected materials which depict this history by:
Providing Community Programs and Exhibits in varied media formats
Issuing Publications to Members and Professionals
Fostering Research
Promoting Museum Projects and related Educational/Cultural Activities
The Nebraska Jewish Historical Society was founded in 1982 by Mary Fellman and Oliver Pollack. Their mission was to collect, publish and display materials which pertain to the Jewish family heritage including business and social histories of the Jewish Community of Nebraska and Council Bluffs. The NJHS is an agency of the Jewish Federation of Omaha.