NJHS DONATION OPTIONS.
We have available for all occasions, cards for donations of $5, $10 and up. Also available are packets of six ($5 cards) for $25. Please use the form below and we will send the appropriate card. Make your checks payable to the Nebraska Jewish Historical Society, 333 South 132nd Street, Omaha, NE 68154
To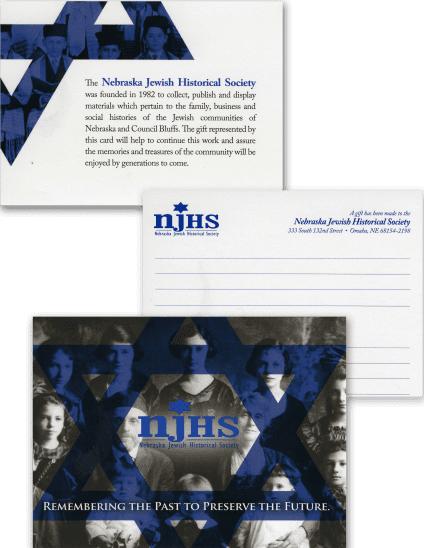 OR call the NJHS office at 402-334-6441/42 between Monday thru Thursday 9 AM to 4 PM . Contributions can be made to the NJHS Fund, the Mary Fellman Permanent Enrichment Fund, or the Dr. Ben Nachman Oral History Endowment Fund.
Remembering the Past to Preserve the Future
History
Archieves
Exhibits
Collections
Learn about all the ways you can participate in our story!